U.S. Government Purges of Law Enforcement Training Material Deemed 'Offensive' to Muslims


The RESULTS HAVE BEEN CATASTROPHIC IN THE REALM OF NATIONAL SECURITY
by
JUDICIAL WATCH
:
"Documentation and Analysis of Islamist Active Measures and Influence Operations Targeting Anti-terrorism Training" includes detailed chronology, identifies specific propaganda organizations, names top Obama administration "Islamist influence operators"
(
Washington, DC
) – Judicial Watch today released a "
Special Report
: U.S. Government Purges of Law Enforcement Training Material Deemed 'Offensive' to Muslims: Documentation and Analysis of Islamist Active Measures and Influence Operations Targeting Anti-terrorism Training."
The 26-page
Special Report
includes a detailed chronology, identifies specific Islamic propaganda organizations, and identifies five top "Islamist influence operators" associated with the Obama administration. More than 12 years of Judicial Watch work on national security issues is featured in the Special Report, highlighting information from government documents exclusively obtained by the organization.
If you would like to receive weekly emails updating you about all of our efforts to fight corruption, please sign up
here.
The heavily footnoted
Report
centers on the Federal Bureau of Investigation's (FBI) purge of anti-terrorism training material and curricula deemed "offensive" to Muslims. The curricula purge – documented through a Judicial Watch
Freedom of Information Act (FOIA) lawsuit
in June 2013 – occurred following a February 8, 2012, meeting between FBI Director Robert Mueller and various Islamic organizations. According to the
Report
, the purge was part of a "broader Islamist influence operation" designed to "influence the opinions and actions of persons, institutions, governments and the public at-large." The
Report
also documents incidents of "Islamic influence operations" at the Departments of Justice and State, the Joint Chiefs of Staff, and the Obama White House.
According to the
Report
, during the February 8 meeting, FBI Director Mueller assured the Islamic groups in attendance that the agency had ordered the removal of presentations and curricula on Islam from FBI offices around the country that were deemed "offensive." One group that met with Mueller – the Islamic Society of North America (ISNA) – had been named by the government in 2007 as an unindicted co-conspirator in the Holy Land Foundation terrorist financing lawsuit, along with the Council on American Islamic Relations (CAIR), and the North American Islamic Trust (NAIT).
The
Report
lists the reasons given by the FBI for purging "offensive" training documents:
"Page 13 inaccurately states that AQ [al Qaeda] is responsible for the bombing of the Khobar Towers and that AQ is 'clearly linked' to the 1993 bombing of the World Trade Center."
"The Qur'an is not the teachings of the Prophet, but the revealed word of God."
"Remove sweeping generality of 'Those who fit the terrorist profile best (for the present at least) are young male immigrants of Middle Eastern appearance.'"
"[A]uthor seems to conflate 'Islamic Militancy' with 'terrorism' and needs to define the difference and use it in their analysis."
Included in the
Special Report's
"Chronology of Recent Developments in Influence Operations" are the following incidents:
October 2011: 57 Muslim groups send a letter to White House demanding "purge" of all counterterrorism training materials and "re-education" of all FBI agents exposed to "Islamophobic" training.
October 2011: DOJ Civil Rights Division meeting with Islamic groups to discuss criminalizing criticism of Islam as "discrimination."
October 2011: Joint Chiefs of Staff issues action directive to screen trainers for military intelligence and psychological operations based solely on Ackerman's Wired report.
November 2011: White House responds to Muslim groups' "purge" demand letter, agrees to set up inter-agency task force, including extremist Muslim groups, to oversee FBI counterterrorism training development.
January 2012: U.S. Military Academy at West Point cancels an address by a highly decorated founding member of Delta Force and former Deputy Under Secretary of Defense for Intelligence, Jerry Boykin, after complaints from the Hamas front group CAIR.
February 2012: Islamic groups meet with FBI to ensure compliance with demanded Islamophobia" purge.
July 2012: Top DOJ Civil Rights official refuses to vow to Congress not to push Saudi-style blasphemy laws.
September 2012: Obama administration blames attacks on U.S. Embassy Cairo and the "Special Mission Compound" in Benghazi on a YouTube movie trailer.
According to the
Report
, "The Obama administration has been penetrated by Islamist influence operators, seeking to advance an ideological agenda completely at odds with our constitutional system. The penetration is, in many cases, by the Obama administration's invitation. Some of the more public and controversial figures associated with the Obama administration have included:
"Rashad Hussain – U.S. Special Envoy to the OIC … has a history of participating in events connected with the Muslim Brotherhood.
"Huma Abedin – Long-time personal aide to former Secretary of State Hillary Rodham Clinton [whose] late-father, mother and brother are all connected to Muslim Brotherhood organizations or operatives.
"Daliah Mogahed – An advisor to the White House Office of Faith-Based and Neighborhood Partnerships. Mogahed's 2009 book Who Speaks for Islam? is viewed by many as an apologia for the growing power and influence of radical Islamists. Mogahed is an unapologetic defender of unindicted terrorist conspirator organizations such as CAIR and ISNA.
"Momamed Elibiary – A Texas-based security consultant and Islamic cleric who was named to President Obama's Homeland Security Advisory Council in 2010. He has close ties to a convicted Hamas fundraiser and other radical Islamist causes ….
"Mohamed Magid – … President of the ISNA, an unindicted terrorist conspirator organization. Magid was appointed by President Obama to the Department of Homeland Security's Countering Violent Extremism Working Group. From that position, Magid was key in influencing and directing the purge of training materials and policies in the FBI and other federal agencies."
The
Report
concludes, "It is fair to say that not a single U.S. government employee goes to work each morning with the mission of identifying and defeating the Islamists' active measures campaigns. Large bureaucratic institutions are reluctant to 'disturb' operations with examinations for deception and manipulation. Those same organizations are loath to raise those subjects in congressional appropriations requests and hearings fearing any political criticism. Until there is someone with the job of defeating the Islamist active measures campaign targeting our nation – and resourced to roll back the Islamists and win – the United States and her citizens are in grave peril."
The Islamization of America is accelerating. In tandem with the spread of
Sharia law in America
's courts, Islamization of the American media, political and education systems in particular is gaining momentum and confidence, and there is near unanimity that it will continue. The drivers of the accelerating Islamization of America include the following.
Estimated to be five million, the Muslim population in USA today is about the size of the Hispanic population 27 years ago, but it is growing six times faster than the national rate, thanks to high rates of birth, immigration and conversions.
Islam's growth in American prisons is particularly troubling. About 80% of Americans who convert to a religion while in prison become Muslims, who now comprise about 20% of American prison population. The conversion rate is especially high among African-American inmates.
Even more troubling, Islamic groups, including
Muslim Brotherhoods
' Council on American Islamic Relations (
CAIR
), have penetrated the highest levels of the US government. The White House now has a White House Muslim Advisor, who has counterpart Muslim advisors at the U.S. Department of Justice, the FBI, and the U.S. Department of Homeland Security, whose Senior Fellow, Mohamed Elibiary recently declared that USA is an "Islamic country":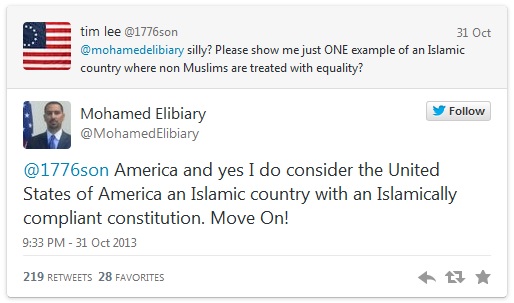 Members of the Muslim Brotherhood who have penetrated the US government have security clearances and are advising not only on "outreach" programs to the Muslims in the United States but also classified counter-terrorism programs that are supposed to protect Americans from Islamic terrorism. Their recent 'achievements' include:
• Deleting Islam's violent nature and past from FBI counter-terrorism training manuals.
• Blocking the planned indictments of
CAIR
and other American Muslim Brotherhood organizations
listed as
unindicted co-conspirators of Holy Land Foundation (HLF)
, the Muslim
Brotherhood "charity" convicted in 2008 of financing Hamas.
• Requiring written communication from and between government agencies to be more "Islam-
friendly."
• Pushing for the prosecution of criticizing Islam as hate crimes (see
Hitler & Muslim Brotherhood
).